Portland Mayor Charlie Hales Takes Part in Ice Shower Challenge
Written by Jacqueline Tobaben on 17 Jul 2014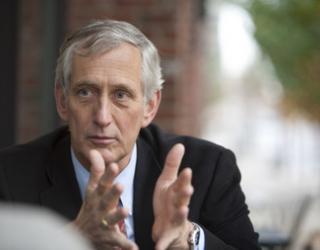 For a good cause, Portland Mayor Charlie Hales took ice shower challenge on Wednesday noon. In front of City Hall staffers and onlookers, Hales allowed five buckets full of icy water to be poured on him.
As every bucket was emptied on his head, he just laughed off. Rising temperatures owing to summers proved beneficial for Hales. Mayor took part in the challenge to raise funds for the Officer Down Memorial Page, a non-profit group, which provides services to law enforcement officers died in the line of duty.
In total, five participants volunteered for the competition on Wednesday. Four of them were from City Hall (Mike Cohen, Cindy Reyes, Deanna Wesson-Mitchell and David Nguyen). The fifth volunteer was Portland Mercury news editor Denis Theriault.
Dana Haynes, Hales' communication director, was of the belief that weather might have spoiled the event. As per him, it gets difficult to grab the attention of people during summers. Hales has donated $50 to the nonprofit organization.
He has even challenged his City Council colleagues to take part in the challenge and that too in next two days. Daryl Turner, the head of the Portland Police Association, was the one who asked Hales to take up the challenge.