Christmas Tree Arrives at White House
Written by Meagan Roberts on 29 Nov 2014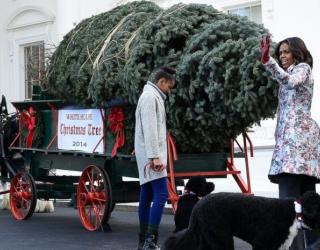 Christmas is around the corner and people have started gearing up for it. America's first family has also got their Christmas tree, which is an eighteen and a half foot Douglas fir.
This tree has come from Botek family of Lehighton, Pennsylvania from their family-run crystal spring tree farm. This farm is run by Chris Botek, a second-generation Christmas tree farmer, who has also provided the official White House tree in 2010 and 2006.
First Lady Michelle Obama and daughters Sasha and Malia gave thumbs up to this tree, which will be gracing the White House's blue room this season. Since 1966, every year the official White House Christmas tree gets displayed in this room. The Blue Room tree cannot be taller than 18 ½ feet, so this tree will be trimmed to fit.
It is said that next Tuesday, John Boehner, the House Speaker will light up the Capitol Christmas Tree.
This Christmas tree is a white spruce. It arrived on Friday morning in a horse-drawn wagon. The wagon hauled 20-foot up the driveway to the North Portico for inspection. The tree was received by first lady Michelle Obama, daughters Malia and Sasha and family dogs Bo and Sunny.
It's a tradition in which the first lady has to preside over the tree delivery on the morning after Thanksgiving. The family circled the tree, smelled it and conferred before the first lady said, "Thumbs-up. It's a go. We're taking the tree".
There are very less odds that this final tree would ever be rejected. This is so as this tree is chosen weeks in advance at the farm that wins the National Christmas Tree Association contest. The winner of this contest has presented the official White House tree since 1966.