Cougar caught in Portland home
Written by Andrew Hernandez on 05 Jul 2014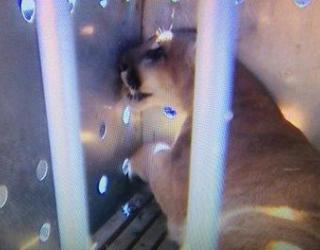 A cougar was captured by crew in the backyard of an East Portland home after it was habituated to the city.
A biologist from the Oregon Department of Fish and Wildlife decided to euthanize the cougar. ODFW spokeswoman Meg Kenagy said that the decision to euthanize was made in order to ensure public safety.
"It had become habituated to the city. It had lost its fear of people. When cougars are seen during the day they have lost their fear of people," said Kenagy, who is a veterinarian would do a necropsy on the animal in order to determine what the animal might have eaten. The gender or possible age of the animal is still not known.
ODFW officials responded Friday afternoon to a call to an East Portland neighbourhood as the caller reported a cougar in a tree. The phone call was received at 2:45 p. m on Friday and later surrounded the cedar tree near the 2900 block of N. E. 121st Ave. The authorities tranquilized the cougar in the evening and loaded the animal into an Oregon Department of Fish and Wildlife vehicle for relocation.
Portland Police Sgt. Pete Simpson said that Fish and Wildlife officials was called in to control the situation.