Oregon witnesses increase in grey wolves' population
Written by Molly Solana on 07 Mar 2015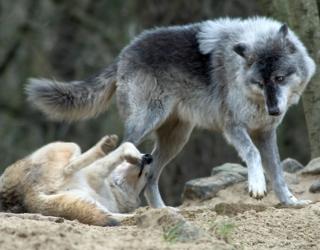 On Friday, Oregon's wolf program coordinator reported the state Department of Fish and Wildlife Commission that the population of grey wolves is increasing at a greater pace.
Wildlife biologist Russ Morgan said this is a measure of success from a conservation point of view as the there are now 16 wolf packs and at least five successful breeding pairs in the state.
Morgan added that although Oregon's true wolf population is unknown, it is certainly higher than 77. The wolves were tracked from signals emitted by radio collars. However, only 33 wolves have been collared in a decade of work.
Since many of those collars have failed, or the wolves have died or been killed, researchers were left with only 13 collared wolves at year's end. An annual survey by the Washington Department of Fish and Wildlife through December 31, 2014 showed that the state had a minimum of 77 wolves, including 26 known pups, in nine packs.
Eight of those packs specifically contained breeding pairs, indicating that at least two pups survived to the end of the year. The numbers mean that Oregon Department of Fish and Wildlife ODFW has moved into Phase 2 of the Oregon Wolf Plan.
Now, the agency can propose to remove wolves from the state's endangered species list. Phase 2 provides ranchers the right to shoot wolves caught in the act of biting, killing or chasing livestock.
The delisting would eliminate endangered species status for wolves in the eastern third of the state. However, the wolves in the rest of Oregon, which includes all areas west of state Highways 395, 78 and 95 would remain covered under the federal Endangered Species Act, administered by the US FWS.