New York revises Plans to reduce Mute Swan Population
Written by Molly Solana on 10 Mar 2015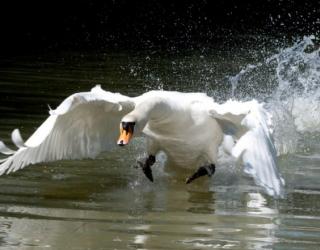 New York has revised its plans to reduce population of mute swans, the majestic white water birds. The new plans include less shooting and more management, as per the Department of Environmental Conservation.
The state Department of Environmental Conservation had proposed the original plans in 2013. That time, the department had called for eliminating wild populations of mute swans by killing them and destroying their eggs.
In March 2014, the department had backed off the plans after protests by animal lovers of New York City. Now, the department has released new plans to reduce the populations of the bird. According to reports, the new plans have called for killing free-ranging mute swans around Lake Ontario, but it also allowed downstate municipalities to keep the birds in public parks.
Environmental Conservation Commissioner Joe Martens said, "Wildlife management can present challenges in trying to balance conflicting interests, such as when a beautiful bird has undesirable impacts".
According to Martens, the new plans by the department will be focused on minimizing the impacts of mute swans on wildlife dependent on wetlands for their habitats. Mute swan population in the New York state is about 2,200. Most of them live on Long Island, around New York City and in the lower Hudson Valley. About 200 mute swans have been living along Lake Ontario.