Las Vegas Road Rage Case: Victim Followed Suspect
Written by Meagan Roberts on 18 Feb 2015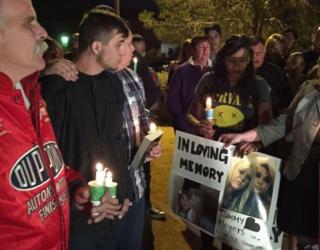 On Tuesday, the police have said that the Las Vegas woman who was shot dead in the front of her home had gone searching for the person, who a few minutes back, had an argument with her in a road-rage incident.
Tammy Meyers, 44, got involved in a confrontation with another driver when she was giving her 15-year-old daughter a driving lesson on Thursday night.
Initially, the police said that Meyers and her daughter went home after the incident and called for help when a car came and someone started opening fire.
In a news press conference on Tuesday, the police said that after coming back home, Meyers went back along with her 22-year-old son, who had a gun, in search of the driver.
According to the police, they drove around in search of a gray or silver sedan, found it and then followed it for sometime before Meyers decided to return back home.
Furthermore, the police said that when they reached home, a silver or gray sedan drove into their cul-de-sac and someone started shooting at them. Meyers' son fired back and the car sped off. The family said that Meyers was hit and died two days after being taken off life support.
Lt. Ray Steiber of the Las Vegas Metropolitan Police Department said, "I would never say that anybody went looking for trouble, but unfortunately I can't ask Tammy what was in her mind at the time of her actions". Investigators haven't identified a suspect in this case.
The authorities have called the shooting an isolated incident that involved road rage and ended in a tragic murder.
Steiber said that homicide investigators are again taking a look at the evidence, including the additional video evidence that has not been released.