ATRIAS to be fastest bipedal robot in world: Researchers
Written by Molly Solana on 16 Mar 2015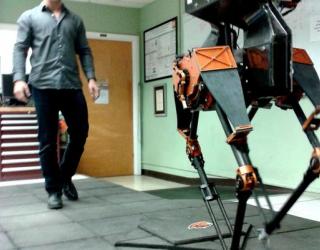 Researchers at the Dynamic Robotics Laboratory at Oregon State University are developing 'Assume The Robot Is A Sphere' (ATRIAS). The team working on the project wants to make this bipedal robot, the fastest in the world. The robot has been designed keeping in mind some bird species, particularly the ones that stay on the ground for most of the time, like chickens.
Jonathan Hurst, an associate professor and robotic expert in the OSU College of Engineering, told KGW News that ATRIAS will be the fastest bipedal robot in the world, when it will start walking, even before picking up speed.
ATRIAS's legs have been created by using a lightweight carbon-fiber mechanism, which helps it move fast even on rough surfaces. According to the Dynamic Robotics Laboratory's website, ATRIAS has been designed in such a way so that it moves just like a simple 'spring-mass' model. 'Spring-mass' model is a hypothetical model which could be compared to a pogo stick.
According to the website, "This springy model can both walk and run with remarkable energy economy and in a fashion highly similar to humans and other animals. By building ATRIAS like this model, we are targeting similar performance".