Maine Woman Finally Finds Kidney Donor
Written by Leah Gardiner on 01 Apr 2015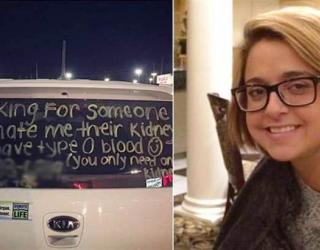 A woman in Maine is getting a second chance to live all because of a stranger who spotted a message on her windshield, and decided to donate her kidney.
Christine Royles was diagnosed with lupus in December 2013 and later suffered kidney failure. She was put on a donor list for a new kidney in July 2014, but after few months she decided to expand the search for her donor.
She pleaded for help by painting a message on her car. Every week she used to change the message on her car.
In one of her messages, she mentioned that she has a two-year-old son, the messages caught the attention of Josh Dall-Leighton and led him and his wife Ashley to reach out to her.
Royles, who lives with her son and fiancé, said she started crying when Josh Dall-Leighton's wife Ashley texted her.
Royles, 24, was parked outside Applebee's where she works as a waitress when Josh and Ashley spotted her car in December 2014.
"He doesn't think any child should be without a mother-that's the first thing he said when he saw it ", Ashley told TODAY. com of her husband.
Josh was not the only one to reach out to her, few others also contacted her. She referred everyone to the transplant center to see if a match could be made, Royles said.
Josh, a 30-year-old corrections officer, also underwent several rounds of testing to determine whether he could move forward with the kidney donation.
Royles stated a few months later she received good news from Dall-Leightons, who have three young children, that Josh was a match.
Royles said, "It's really amazing because he has three kids, he's the sole provider. He's got a young family and he's just going to take time off to do something for a random person-I think it's pretty crazy".