Windham Man's Decision to Donate Kidney highlights need for donors
Written by Leah Gardiner on 02 Apr 2015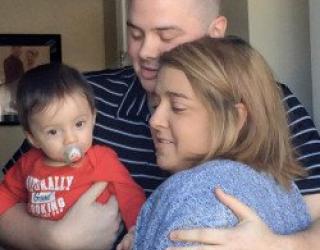 The Windham man who is planning to donate a kidney to a 24-year-old South Portland woman does not have to worry about money when he will take off from work due to the surgery.
Through a Go Fund Me campaign, he has been able to raise up to more than $40,000 and more contributors are coming in. Local, national and international media focused on the story after it was published in a Portland Press Herald article.
The article and video unveiled about Josh Dall-Leighton's decision of giving his kidney to Christine Royle. Last fall, Dall-Leighton saw a sign on Christine Royles' car, which read: "Looking for someone to donate me their kidney. Must have type O blood".
Royles' kidneys were failing due to an autoimmune disease. She is a single mother of a two-year-old child and wanted a donor. Dall-Leighton contacted the Maine Transplant Program and underwent testing and came to know that he is eligible to donate the kidney.
Dall-Leighton said he has three children and this was the main thing that touched his heart. "If (my wife) needed a kidney and I couldn't provide for her, I would hope that somebody else would kind of step up and help her out", affirmed Dall-Leighton.
The tentative date for the surgery is May 19 and everything will be finalized after the latest test is done on next week. Ashley Dall-Leighton said that through this incident, the issue of need for kidney donors has been highlighted.
Ashley said that her husband's act has given a lot of strength and hope to others who need a surgery. Around 100,000 people in America are on the waiting list for a transplant, revealed the National Kidney Foundation.