Special operations personnel unconvinced regarding idea of female commandos
Written by Jacqueline Tobaben on 06 Apr 2015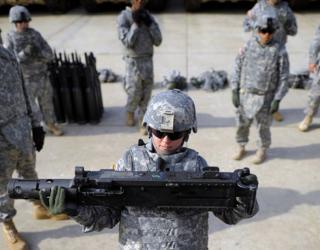 According to interviews and documents obtained by The Associated Press, it was found in surveys that men in US special operations forces don't think that women can meet the physical and mental demands of their commando jobs. As per surveys, they fear that the Pentagon will lower standards to include women into their elite units.
'Major misconceptions' within special operations were found in studies that surveyed personnel regarding whether women should be taken into the male-only jobs. According to one document, they also said that department leaders would 'capitulate to political pressure, allowing erosion of training standards'.
According to Andy Hamilton, who works with Bland and is an expert in this issue, there are many problems with women in special operations jobs. According to him, "They're concerned that this might result in the lowering of the standards in what are currently our male-only occupations, and that would then reflect on either them or on the women who come into those occupations".
It was found by the researchers that some of those concerns were not just restricted to men, they were also found among women in special operations jobs. Dan Bland, force management director for U. S. Special Operations Command, told the AP that the findings of the survey have made them do some different things regarding educating the force.
Approximately 68,800 people serve in the command, together with 3,000 civilians. The main survey went to nearly 18,000 people, who are in positions similar to women and there was about 50% response. As per officials, the high response rate indicates the interest of people in the matter. Details regarding the survey have not been released.