Huge shark fossil found in Duck Creek Formation of Texas
Written by Molly Solana on 08 Jun 2015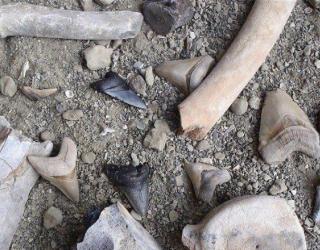 Paleontologists have discovered some fossils just outside Fort Worth. The initial reports suggest that these fossils belong to a huge shark that lived in the shallow seas, which covered Texas a hundred millennia ago.
In 2009, a group of college students was looking for fossils during a paleontology trip to the Duck Creek Formation. Joseph Frederickson and his wife are graduate students at the University of Oklahoma. Joseph Frederickson's wife, Janessa Doucette-Frederickson, observed a fossil while walking along a section of the formation with exposed limestone.
Joseph Frederickson told the Star-Telegram that they realized after some time that it was a unique fossil and its size was really huge and they found three fossils after digging up. According to reports, the fossils are vertebrae of a shark that was at least 20 feet long, and are approximately 100 to 105 million years old. Great white sharks at present are average 15 feet long.
The Duck Creek Formation, where many Cretaceous Period fossils were already found, is located west of Fort Worth and stretches to Oklahoma. At present, Frederickson and his wife are graduate students at the University of Oklahoma.
The findings have been published by the couple and their colleague Scott Schaefer as 'A Gigantic Shark From the Lower Cretaceous Duck Creek Formation of Texas' in the scientific journal PLOS One. The paleontologists, studying the vertebrae, also studied about other large shark fossils found in Kansas from the same period.
According to Frederickson, "They would have been living alongside each other. The impressive thing about this is that we have this gigantic shark — over 20 feet — that's as large as the largest documented great white".