CMS proposes new rules to improve quality of care in nursing homes
Written by Leah Gardiner on 14 Jul 2015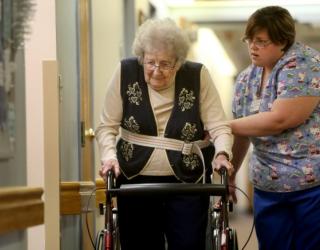 The CMS wants to bring radical changes in the quality of care received by Medicaid and Medicare beneficiaries in nursing homes. More than 15,000 long-term care facilities or nursing homes around the country that participate in the Medicare and Medicaid programs are providing treatments to nearly 1.5 million beneficiaries.
The 403-page rule proposed by the CMS on Monday included a plethora of proposals to reduce unnecessary hospital readmissions and infections, overhaul quality of care and bring in new safety measures.
"Today's measures set high standards for quality and safety in nursing homes and long-term care facilities. When a family makes the decision for a loved one to be placed in a nursing home or long-term-care facility, they need to know that their loved one's health and safety are priorities", said HHS Secretary Sylvia Mathews Burwell in a statement.
President Barack Obama talked about the new rules on Monday during the White House Conference on Aging.
The proposed rule calls for providing proper training to nursing home staff members about caring for residents with dementia and in preventing elder abuse. Improvements in care planning, including discharge planning for all residents with involvement of the facility's interdisciplinary team and consideration of the caregiver's capacity, is also included in the rule.
The CMS is a popular name in the nation for long-term care services. Medicaid pays for care of nearly 64% of nursing home residents and another 14% are covered by Medicare. In the first year of the rule, the nursing home industry would have to shell out $729 million because of the proposal.