Ralph Lauren's canoes to be built in Freeport
Written by Hallie Bins on 24 Jun 2014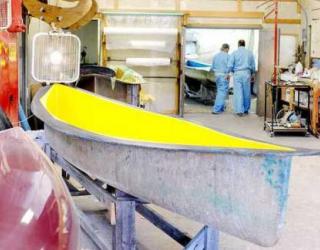 A former Auburn man and his small team in Freeport are building canoes for famed fashion designer Ralph Lauren.
The designer will examine trio of canoes at his Madison Avenue showroom this week. The crew in Freeport has been working for more than a week in order to take their products form the lakes and ponds across the state to the centre stage in New York City.
Marc Bourgoin, co-owner of Lincoln Canoes said that the work is happening at a fast pace and said that the team is excited. The team was planning to work throughout the weekend to build a pair of customized canoes for the Ralph Lauren people. The canoeswill join a third Lincoln canoe that already reached New York earlier in the week.
Bourgoin received a text message from a Lauren representative during the previous week. "They wanted a white canoe. It's an uncommon color. I told him, I don't have one but I could build one for you," Bourgoin said. The Lauren representative agreed to give the order but wanted the delivery on the following Monday.