Hypertension can protect the elderly from dementia: study
Written by Leah Gardiner on 18 Jul 2014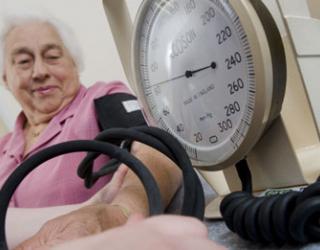 High blood pressure, which is also known as hypertension, can save the life of brain cells and protect against dementia in old age, according to a new study discussed at the recently held Alzheimer's Association International Conference in Copenhagen, Denmark.
The research conducted by researchers at the University of California suggested that hypertension could protect people over 90 years of age from dementia by saving the lives of their brain cells.
The researchers reached the conclusion after following a total of 625 very elderly people who developed hypertension in their 90s for around ten years. The researchers found that the risk for dementia in those elderly who developed hypertension in their 90s was 55 per cent lower than people who never developed high blood pressure.
Nonetheless, the researchers stressed that one should not try to promote hypertension in the very elderly age to get rid of dementia, as hypertension also brings a number of other health issues.
Speaking about the study, William Klunk, vice chairperson of the Alzheimer's Association Medical and Scientific Advisory Council, said, "I don't think it says if I find somebody who's doing well at age 90, whose blood pressure is 120/80, we should feed them salt to bump their blood pressure up."
Klunk added that the research simply showed that when it comes to normal blood pressure levels, a single level might not be fitting for the young and elderly alike.
According to the Alzheimer's Association, there are more than 44 million people with dementia worldwide. The number is expected to swell 115 million by 2050.