Smoke inhalation caused firefighter's death: HFD
Written by Victor Cozad on 04 Oct 2014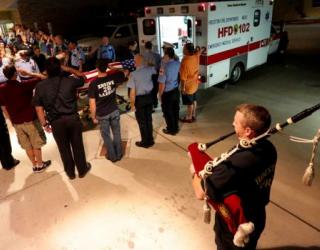 A Houston firefighter died of smoke inhalation in July this year while fighting a blaze inside a home, authorities confirmed Friday.
The Houston Fire Department (HFD) said in a statement that 46-year-old Daniel Groover and other firefighters went into a burning two-story structure in the 1400 block of Mistletoe Lane in Kingwood thinking there might be people trapped inside.
Groover, a 21-year veteran, collapsed while fighting the blaze. Other firefighters brought him out of the home and started CPR. The efforts to save life continued on the way to the hospital, where doctors pronounced him dead.
Terry Garrison, chief of the Houston Fire Department, said, "As an organization, we will continue to learn from this tragedy and I have established an organizational recovery committee so that we move forward and implement positive changes."
Initially, there was uncertainty about whether the firefighter's death was because of natural causes. But, the Harris County medical examiners yesterday confirmed that he died from smoke inhalation.
However, state as well as federal investigations continued to probe the circumstances that led to his untimely death.
Houston Professional Fire Fighters Association's interim president, Alvin White, stressed that firefighting remained an extraordinarily dangerous profession in spite of recent safety advances.