Worshipers hold Sunday service in parking lot
Written by Marissa Goheen on 20 Oct 2014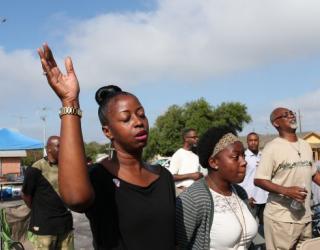 Parishioners of the New Jerusalem Baptist Church that was destroyed by a fire last week have found a way to hold Sunday service. The church's congregation held yesterday's service in a parking lot.
The new location for Sunday service is not far from the destroyed church. Minister Kris Atkinson said that the fire could not shake their faith and that they were looking at a new beginning.
Speaking on the topic, Atkinson said, "We're looking at a new beginning, truly a new beginning. We see the remains of the church, but the real church is behind me worshipping on this morning."
Instead of lush carpet, there was concrete beneath worshippers' feet during Sunday service. Pastor Jeffrey Garner said tears of joy and happiness ran down his eyes on seeing the love walking up on the church ground.
Pastor Garner expressed hope that something good would come from the destructive fire, stressing that their faith was still strong and alive.
Several firefighters from San Antonio Fire Department spent hours on Monday last week to douse the massive blaze in the 400 block of Pennystone Avenue but they could not save the church. The cause of the fire is yet to be determined, though some people believe that the fire was caused by an electric spark.