Austin voters urged to check 'yes' for Proposition 1
Written by Eric Tapia on 21 Oct 2014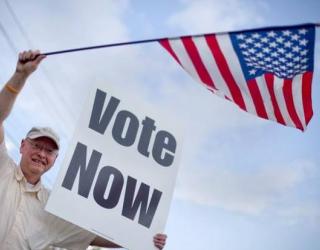 Early voting for November elections started on Monday; and Austin's controversial Proposition 1 measure is one of the biggest issues placed on the ballot.
Supporters of Proposition 1, which proposes to spend $1 billion on rail transportation, are trying to convince voters to check "yes" for the measure at the polls. Dozens of urban rail supporters assembled in Downtown Austin a day before early voting to promote the local proposition.
So-called Proposition 1 proposes to spend $600 million on building a 9-mile rail line, while City Council would spend $400 million on roads.
Dick Kallerman, a supporter of Proposition 1, said, "There was a time you could drive around town in 15 minutes. Now, 35 to 40 minutes is typical, so sure, we need a little help."
While supporters say it would improve transport services; opponents argue that it would also lead to higher costs for residents. The measure is expected to push property taxes up by $217 on a $200,000 home annually.
During the futile urban rail vote in 2000, the city had a population of around 670,000. Now, the city has more than 200,000 people. Supporters of Proposition 1 argue that the city could not afford to wait another fourteen years to address deteriorating transportation issues.
Early voting is scheduled to run through October 31. Election Day is set for November 4, 2014.