Brian Cushing more likely to play against Philadelphia than Clowney
Written by Meagan Roberts on 01 Nov 2014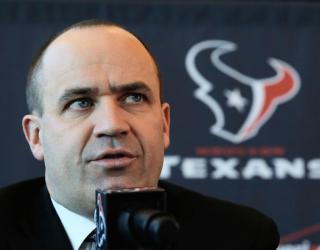 Houston Texans Coach Bill O'Brien hinted on Friday that Brian Cushing was more likely to play against Philadelphia Eagles on Sunday than Jadeveon Clowney, who seems to have a bad case of flu.
Speaking about the two linebackers' prospects of playing against Philadelphia Eagles, O'Brien said Cushing seemed more likely to be active than Clowney.
When asked about the top National Football League (NFL) draft pick's chances of recovering from an unrevealed illness by kickoff, O'Brien said, "I wouldn't say it looks very good. We'll see how he is tomorrow, but that's how I feel today."
However, O'Brien stressed that it wasn't Clowney's surgically repaired knee that was potentially holding him back. When asked if Clowney's issues were frustrating, he said he was not frustrated by the player's issues even a bit.
Putting weight to his views, he said injuries occur often in NFL games, and next player stepped up. That's why they had a 53-man roster.
Last weekend, Clowney got in for more than thirty games against Tennessee in Nashville. Earlier, he missed six plays because of a meniscus tear suffered in the season-opener that required him to undergo an arthroscopic procedure.