It's Time for Geminid Meteor Shower
Written by Molly Solana on 04 Dec 2014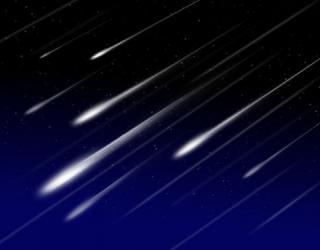 The Geminid meteor shower, dubbed 'highlight of the meteor shower calendar' by the Met Office will start from December 7 and end on December 16.
The Geminid shower occurs when the Earth passes through the path of asteroid 32000 Phaethon and the debris left in its trail burns up as it hits the Earth's atmosphere. These meteor showers are commonly bright and have longer persisting trains.
According to a spokesman for the Met Office, the peak of the shower will take place over December 13 and 14 and more than 50 shooting stars will be seen per hour.
He said, "The Geminids is different to other meteor showers as Geminid meteors originate from an asteroid, as opposed to a comet, meaning they are very rocky and gritty, making them slightly easier to see than other showers".
People in Ashbourne and Derbyshire will be looking for clear, cloudless skies to have the best possible chance of catching a glimpse of the meteor shower.
The meteor shower will appear randomly anywhere in the sky so there is no need to look for in any particular direction in the sky.
Also, there is no requirement of a telescope, binoculars or any other equipment. So just wrap up warm and head outside and find a spot of night sky away from bright city lights. The meteors will be mostly visible after midnight.