Samsung introduces portable T1 SSD with Terabyte storage
Written by Matt Hensley on 23 Jan 2015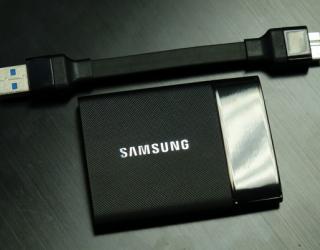 Samsung has launched portable SSD range named T1 with 250GB, 500GB and 1TB variants. The high performance Solid State Drive from Samsung comes in a small package. Based on 32-layer TLC V-NAND technology, T1 SSD is smaller than a business card and just 9 mm in thickness.
Samsung first introduced T1 SSD at CES 2015. The SSD weighs less than 30 grams. Samsung has offered a robust and fast storage option with high capacity.
During the tests, CrystalDiskMark has rated the drive with read speed up to 450 MBps. By offering the high performance and high capacity portable storage option, Samsung has surely achieved a great milestone. The SSD will be available by the end of January in the US, European and Asian markets. During the first phase, Samsung will be selling the SSD in 14 countries.
Samsung has offered dynamic thermal guard feature, which will automatically turn off the SSD during extreme temperatures to keep the drive and data safe.
Samsung T1 SSD comes with three year warranty. Samsung T1 SSD 250 GB has been priced at $179.99. For 500GB model, consumers will have to shell out $299.99. The 1TB portable SSD will cost $599.99.
With improved performance and faster data read and write, Samsung SSD is a perfect choice for users looking for performance boost and high storage capacity. The T1 SSD features USD 3.0 interface.