Boeing and SpaceX Provide Details of CCP
Written by Molly Solana on 27 Jan 2015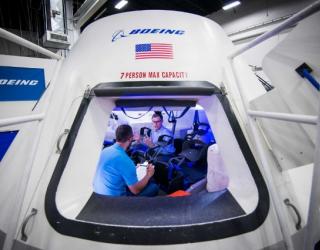 NASA and its commercial partners are quite positive with regard to the agency's Commercial Crew Program (CCP).
In a news conference, representatives of Boeing and Space Exploration Technologies (SpaceX) were present along with NASA administrators and astronauts. They were present to provide an update on CCP and when it's expected to start.
As per NASA, Boeing will carry out a pad abort test in February 2017 and then an unmanned flight test in April 2017 and then a flight with a Boeing test pilot and a NASA astronaut in July 2017.
"Never before in the history of human spaceflight has there been so much going on all at once. NASA's exploring places we didn't even know existed 100 years ago", said John Elbon, vice-president and general manager of Boeing's Space Exploration division.
SpaceX is also at the same path. Boeing and SpaceX will continue to work on their projects and NASA team will continue with its role as assessor and quality control evaluator. Both the companies will utilize facilities at Kennedy Space Center and Cape Canaveral Air Force Station.
Boeing will utilize Launch Complex 41 at Cape Canaveral and Space X will employ Launch Complex 39A at Kennedy Space Center.