Natural History Museum to launch Barrier Reef virtual dive later this month
Written by Molly Solana on 09 Mar 2015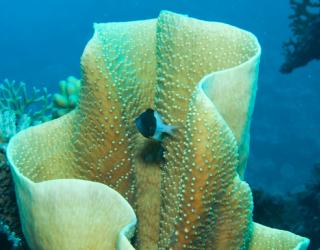 The Natural History Museum in London is going to organize a Barrier Reef virtual dive later this month. At this place, people can explore the world's largest coral reef system off the coast of Australia.
It has been informed that dubbed 'Coral Reefs: Secret Cities of the Sea', space of gallery is going to be changed with a bank of screens and will also provide a 360 degree virtual immersive experience. On March 27, it is going to be open and it will also include more than 200 exhibits from collection of the Museum. It will also include the Turbinaria coral and coral gathered by Charles Darwin.
The sensation of being underwater can be recreated with the help of light and sound effects. Because of latest technology, now users can zoom in and can also explore a variety of reefs from all over the world.
Several of pictures came from the Catlin Seaview Survey. This Survey is a worldwide scientific study of the world's coral reefs. This Survey is scientific project and it has recorded the health of coral reefs worldwide since 2012.
The Catlin Seaview divers took help of state-of-the art cameras. These cameras capture an image every three-to-six seconds. After that, pictures are placed next to each other so that a panoramic view can be created.
Dr. Ken Johnson, Museum coral reefs expert, said that Coral reefs are not merely attractive environments, they help to provide food, income and storm protection for numerous millions of people around the world.
"The research Catlin sponsors focuses on the oceans, which play a crucial role in the planet's ecosystem. The Catlin Seaview Survey is an ambitious scientific project that since 2012 has documented the health of coral reefs worldwide", wrote Catlin Insurance, which is helping sponsor the whole project.