Tim Cook congratulates CNBC's Jim Cramer on 10th anniversary of 'Mad Money' show
Written by Matt Hensley on 13 Mar 2015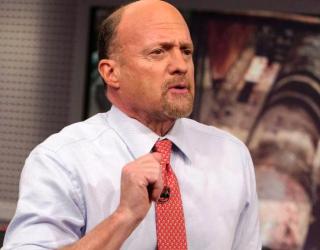 CNBC financial entertainment star Jim Cramer recently received a congratulatory telephone call from Apple CEO Tim Cook on the occasion of the 10th anniversary special of the 'Mad Money' cable TV show.
'Mad Money' is a popular CNBC show which, for the last one decade, is being hosted by Cramer who intersperses the characteristically buttoned-down world of financial news with wild fits of laughter and physical comedy.
Congratulating Cramer for performing his 'Mad Money' high-energy TV show for the last ten years, Cook told Cramer that he is "a champion for American innovation." Cook also added alongside that the Apple executives are extremely impressed by the fact that the key focus of Cramer's show is on highlighting innovation.
Cramer, who was taken by surprise by Cook's congratulatory call for hosting 'Mad Money' for the last ten years, exchanged complements with Cook; and told him: "I am honored that you're calling in."
Cramer also said to Cook: "I want to congratulate you for running the greatest company on earth, and for creating such amazing wealth, and the best products on earth for everybody. You have done a remarkable job, Tim."