FDA panel says Glaxo Asthma Drug safe for Adults
Written by Leah Gardiner on 20 Mar 2015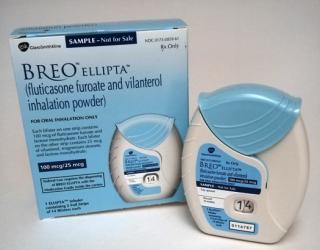 On Thursday, an advisory panel to the United States Food and Drug Administration stated that British multinational pharmaceutical company GlaxoSmithKline Plc's asthma drug to treat chronic breathing problems is safe for adults. The panel also warned that the drug is not effective for adolescents with asthma.
According to reports, the panel voted 16-4. As per panel, the drug should be approved for once daily treatment of asthma in patients 18 years and older. The panel also voted 19-1 and concluded that drug will not be approved for children aged 12 to 17. Glaxo, which is headquartered in Brentford, licensed the product from Theravance Inc in 2002.
The drug, Breo Ellipta, consists of a corticosteroid, which is helpful in reducing inflammation, and a long-acting beta-agonist or LABA, known as vilanterol. Previously, the LABA class of drugs has been linked with asthma-related deaths.
In a research note, Timothy Anderson, an analyst at Sanford Bernstein, said the adolescents represent about 10% of the eligible population for the drug. Still, the panel decided not to back the drug for children. According to Anderson, the pharmaceutical company's inability to market it for children will have certain commercial implication.
Anderson said, "Insurance companies will need to include more than one LABA/corticosteorid on their formulary to meet the needs of the total asthma population, when most would prefer just one agent. Competitors will be quick to rally behind a 'one drug meets all' approach". Anderson has predicted $750 million in Breo sales in 2020.
The vote by the panel came after the United States market closed. According to Anderson, he expected that Theravance stock will fall on Friday morning to between $13- $15 a share and $17.97 on Thursday. The federal agency of the United States Department of Health and Human Services is expected to rule on whether to approve the drug by April 30, 2015.