Two Teenagers Arrested in Case of Dog that Found Shot and Tied to Railroad Tracks
Written by Jacqueline Tobaben on 12 Mar 2015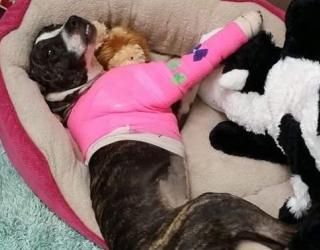 It has been informed that two teenagers have been taken into custody in case of a dog that authorities found shot and tied to the railroad tracks near Tampa.
Tampa police said that officers got a tip that there was a video of the suspects. The video shows that suspects walking to the tracks with a dog. One of the suspects in the video was identified by investigating officers and after that they were arrested.
On Wednesday, the 17-year-old boys were arrested and have been charged with aggravated animal cruelty charges. According to authorities, they have found the dog tied to the train tracks.
The authorities said that the dog was also suffering from two gunshot wounds. The dog was moved by the authorities to Tampa Bay Veterinary Emergency Center. The dog has been named as Cabela and is now getting better.
The officers were investigating for about a week and it was found that the dog was shot two times in the neck and above the right shoulder. Cabela's front right leg has been saved by Vets. According to the police, with the help of the public, police work and surveillance video the case has been solved.
"Through our investigation we were able to identify two suspects. Those suspects have been arrested. Those suspects did provide admissions and confessions admitting to their roles and those two people have been charged', said TPD Detective Patrick Messmer.
According to Messmer, some clues were there that Cabella was in fact bought to engage in dog fighting. Cabela is not a good dog fighter so this might be the reason that they wanted to get rid of her. Katy Meyer, who owns the Tampa Bay Veterinary Emergency Service, said that they wanted to thank the Tampa Police Department for their detailed investigation in this case.