Eric Garner's Death Case Prompt NYPD and DIA to Study Chokehold Cases in Detail
Written by Jacqueline Tobaben on 12 Jan 2015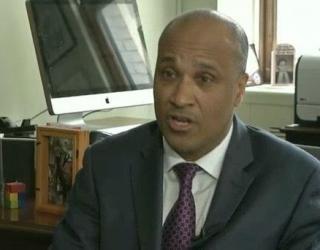 The protests over Eric Garner's death have encouraged the Department of Investigation and the new NYPD inspector general to study other chokehold cases thoroughly.
The new Inspector General (IG) for the NYPD is presenting his first report to Mayor Bill de Blasio, City Council Speaker Melissa Mark-Viverito, and Police Commissioner Bill Bratton on Monday.
The report is authored by Department of Investigation Commissioner Mark Peters and his chosen NYPD IG Philip Eure. It deals with 'accountability and transparency in substantiated chokehold cases' against NYPD officers.
According to the new NYPD inspector, there is a requirement of better communications between the police department and Civilian Complaint Review Board when investigating chokehold and other abuse cases.
NY1's Dean Meminger said the inspector general needs to know why officers weren't disciplined in some cases.
Eric Garner died on July 17 after officers tried to arrest him on suspicion of selling untaxed cigarettes. An officer is seen on video wrapping his arm around Garner's neck. Garner lost consciousness and dies.
The CCRB ruled that officers used chokeholds in 10 incidents. The review board substantiated all of the chokehold claims and recommended disciplining the officers. But the report claims that the Police Department did not pursue discipline in most of the cases.
According to Inspector General Philip Eure said, "It is troubling for this office, but it should be troubling for officers. It should be troubling for complainants who filed complaints with the CCRB".
He added that it should be troubling for the NYPD because if inconsistent standards are being applied, it makes it impossible to declare that there is a reliable disciplinary process where officers are being held accountable.
If there is immense abuse of power by police officers, the Department of Investigation has the power to step in and take a legal action. The agency arrested 12 correction officers last year for abuse of authority.