James Brooks was Arrested in Connection with Los Angeles Shooting
Written by Meagan Roberts on 01 Jan 2015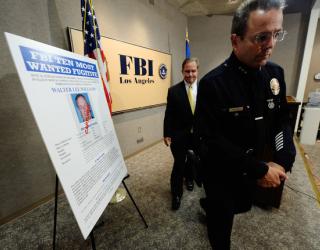 On Wednesday, James Brooks, a second suspect was taken into custody for allegedly having a link in a weekend shooting with Los Angeles police. According to FBI spokeswoman Laura Eimiller, a joint FBI and Los Angeles Police Department task force has arrested James Brooks.
Prosecutors said that two officers were driving their patrol car on Sunday through a south Los Angeles intersection when rival gang members were engaged in a fight and opened fire on the police patrol car.
No one was injured in the incident. The Los Angeles County District Attorney's Office said that Brooks was taken into custody after accused gang member Christopher Taylor, was charged for assault on a police officer, assault with a semi-automatic firearm and shooting into an occupied vehicle in link with the incident.
If Taylor is convicted then he will face a maximum sentence of life in prison. Initially, authorities were worried when the two officers were ambushed days after killings of New York City officers.
According to authorities, shortly after the incident, the other suspect was detained. After the fatal shootings of the two officers took place in New York earlier this month, law enforcement across the United States has been on alert. Largest city of America was left shocked by the killings of Wenjian Liu, 32, and Rafael Ramos, 40, in Brooklyn on December 20.
A perimeter was also established around various city blocks because police swarmed the area to search for the perpetrators. The FBI spokeswoman referred further questions about the charges to Los Angeles police, but a LAPD spokeswoman was unable to give further information.