US Coast Guard crew photographs Shipwrecks in Waters off Sleeping Bear Dunes Lakeshore
Written by Molly Solana on 20 Apr 2015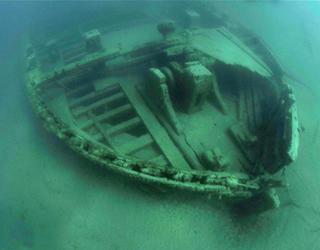 A United States Coast Guard crew photographed shipwrecks in post-winter waters of northern Lake Michigan. According to the crew, the shipwrecks were lying on the lake bottom in water off the Sleeping Bear Dunes National Lakeshore, which is a national park in Michigan.
According to reports of Grand Rapids Press, the crew spotted the shipwrecks when a Traverse City-based helicopter was on a routine patrol. After spotting the wrecks, the crew got pictures of them. As per the reports, the waters of the lake off the Leelanau Peninsula are the region where a number of many 19th and early 20th century shipwrecks are present.
The region is also known as the Manitou Passage. The passage is between the mainland of the northwestern Lower Peninsula and North and South Manitou Islands. Now, the Coast Guard crew has posted about six photos of the wrecks on its Facebook page that were taken on Friday.
The wrecks that were photographed by the crew include the Rising Sun, which was foundered about hundred years ago. According to the Coast Guard crew, "This 133 foot long wooden steamer stranded just north of Pyramid Point. She went to pieces and her wreckage now rests in 6 to 12 feet of water".
Another wooden steamer was the James McBride, which is a 121-foot brig that ran around in 1857. The Coast Guard said that remains of the James McBride lie in about 5 to 15 feet of water near Sleeping Bear Point. The McBride encountered a windstorm and was driven ashore near Sleeping Bear Dune, as per the Coast Guard.
Earlier, the United States Park Service said the wreckage of the Jennie & Annie was now visible again on the beach, which is actually a halfway between North and South Bar lakes. The United States Park Service manages the Sleeping Bear Dunes National Lakeshore.