Speed limit on Trans-Canada Highway increased to 110 km/h
Written by Matt Hensley on 25 Apr 2015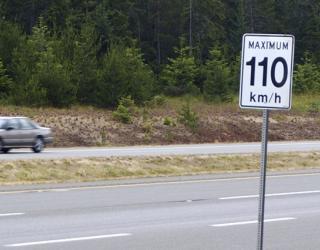 According to a new speed-related announcement made by Premier Greg Selinger on April 23, the speed limit on the Trans-Canada Highway west of Winnipeg is being increased from 100 km/h to 110 km/h.
As per the announcement, the Trans-Canada Highway section for which speed limit has been raised includes the section of highway east of Portage la Prairie to Headingley; not including the traffic signal zones.
The new speed limit on the mentioned section of the Trans-Canada Highway will be effective from June 2.
About the reason behind the move to increase the speed limit from 100 km/h to 110 km/h on the mentioned Trans-Canada Highway section, Selinger said that the change in speed limit is rooted in the fact that significant improvements have made to the section of the highway since 2007. The improvements involved an investment totaling nearly $242 million for the highway through Manitoba.
With regard to the expenditure involved in making improvements to the Trans-Canada Highway, Selinger said in a recent press release: "These investments have made it possible to increase speed limits on the Trans-Canada Highway."