Abandoned Lamborghini found on Dallas North Tollway
Written by Victor Cozad on 10 Mar 2015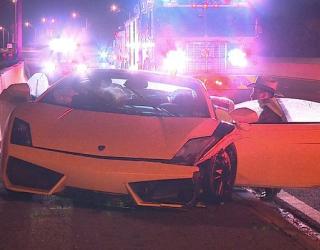 According to a Dailymail report, a yellow Lamborghini luxury car was found abandoned and discarded on the Dallas North Tollway on March 8 evening. The abandoned $200,000 Lamborghini – Italian luxury sports car - was found on a sidewalk by Dallas Texas highway patrol.
According to the Dallas police's confirmation of the abandoned Lamborghini, an "unidentified" owner left the supercar hanging on the sidewalk, apparently because of heavy damage to its front right wheel and bumper.
On the basis of the damage of the abandoned Lamborghini and the skid marks on the road, Dallas Texas highway patrol assumed that the driver of the car was probably going at a very high speed, and misjudged the road. Due to the evident error in judgment, the driver eventually slammed the car's front right side into a highway barrier; causing the burst of the front right tire as well as damage to the front right bumper.
Though there was no identification of any kind inside the abandoned Lamborghini, it was later verified that the car had been rented by an unnamed person, from the luxury car rental company Exotic Skittles.
The abandoned Lamborghini has been towed out of the highway by the Dallas highway police. The car has been impounded by the highway police for further investigation and the eventual retrieval of the car by the rental company.