Texas A&M University vets caring for Ebola-stricken Dallas nurse's dog
Written by Leah Gardiner on 18 Oct 2014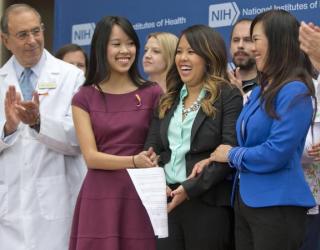 Bentley, the one-year-old King Charles spaniel owned by Ebola patient Nina Pham, is being cared for by two veterinarians from Texas A&M University's Veterinarian Emergency Team at the Hensley Field Services Center on West Jefferson Boulevard.
Dallas Animal Services (DAS) recently released some pictures of the dog showing the pet playing with a stuffed toy and snuggling up to veterinary expert Dr. Tammy Beckham, one of the two experts assigned with the task of caring for the pet.
Beckham enters Bentley's quarantine area three times a day to clean his area, feed him and play with him.
Speaking about the dog, Beckham said, "It's hard for me to leave him every day because, obviously, you want to take the cute little guy home with you. But he's doing great and adjusting well. He just wants to play all the time and be petted."
The dog has been provided with toys to play, blankets to snuggle in as well as a radio set to allow him to listen to classical music. However, rubber cones stuffed with peanut butter seems to be his favorite.
Bentley will be tested for Ebola at the end of his 21-day in isolation. If he shows no signs for the deadly disease, he will be released.
Nina Pham, a health worker who owns Bentley, contracted Ebola virus while caring for Thomas Eric Duncan at Texas Health Presbyterian Hospital in Dallas. Duncan has already succumbed to Ebola, which has so far killed more than 4,500 people, mostly in West Africa.