Dallas judge declines to declare 'state of emergency' over Ebola
Written by Marissa Goheen on 18 Oct 2014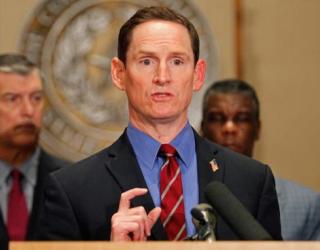 The idea that a contact of a contact of a contact is going to get deadly Ebola disease is a scientific insanity by definition, said Dallas County Judge Clay Jenkins.
Responding to growing Ebola scare, Judge Jenkins declared that he didn't want to use "state of emergency" tool unless absolutely necessary. He declared his stance when the Dallas County Commissioners Court met in a special session on Thursday afternoon to address the ongoing Ebola crisis.
Speaking to reporters after the meeting, Jenkins stressed that he had the "tool" in his toolbox but didn't want to take that out and use for the time being.
Addressing the Ebola concerns, he said, "If you didn't come in contact with bodily fluids of an Ebola victim, then you don't have Ebola. The idea that a contact of a contact of a contact is going to get Ebola is by definition scientific insanity."
Zachary Thompson, director of Dallas County Health & Human Services (DCHHS), expressed his concerns during the meeting that Dallas County's 2.4 million residents could be at risk and that they understood that the DCHHS was committed to protect them.
Jenkins hinted that his authority encompassed a total of 135 contacts being monitored for the deadly disease, including 75 health workers at the Texas Health Presbyterian Hospital in Dallas and the original 48 persons who were in first Ebola victim Thomas Eric Duncan's contact.