'Amazon Echo' - interactive speaker that serves as digital personal assistant
Written by Matt Hensley on 10 Nov 2014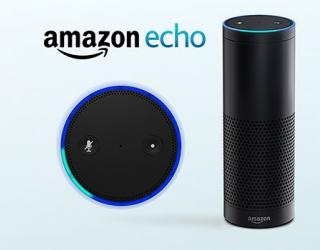 Via a recent promotional video, online retail giant Amazon recently unveiled a voice-controlled interactive speaker - dubbed 'Echo' - which can serve as a digital personal assistant like Apple Siri, Google Now and Microsoft Cortana.
The Amazon Echo wireless speaker essentially enables the users to stream music as well as order items from the online retailer.
About the pricing of the Echo interactive speaker, Amazon has said on its website that the device is priced at $199. However, for a limited period, the device will be available for $99 for members of Amazon's Prime fast-shipping program. Consumers interested in buying the Amazon Echo wireless speaker have to request an invitation to get the device.
In its description of how the Echo works, Amazon has said on its website that the users have to use the word 'Alexa' to wake the device up. The gadget boasts connectivity with the Internet, and it runs on Amazon's cloud-computing service --- Amazon Web Services.
With Amazon asserting that, over a period of time, Echo can adjust to the speech patterns and personal preferences of consumers, company spokeswoman Kinley Pearsall said that Echo is different from smartphones and tablets which can perform similar functions.
Pearsall said that Echo is "a new category of device" which will "get smarter over time."