World's Smallest Species of Goanna an Evolutionary Marvel, say Scientists
Written by Molly Solana on 30 Dec 2014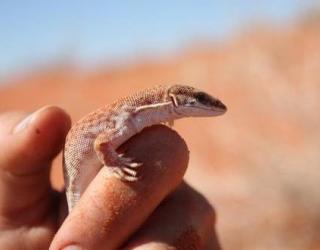 World's smallest species of goanna has been discovered in the Kimberley. As per researchers, the lizard has not changed for over 6 million years.
The species, which weighs just 16 grams and measures 23 centimetres, has been named 'Varanus sparnus' or 'dampier peninsula goanna'. Scientists have termed it as an evolutionary marvel.
Dr. Paul Doughty from the WA Museum said, "We estimate from the genetic information [that the species] diverged roughly about the same time that chimpanzees diverged from human beings".
Dr. Doughty was of the view that there is a huge variation in body mass of the goanna family, which also includes komodo dragons and monitor lizards. Dampier peninsula goanna was 16 grams having a length of around 23 centimetres and on the other hand, a komodo dragon is about 80 kilos at least and is more than three metres long.
All these species belong to same group, but have different weights and sizes. While surveying the area, environmental consultants have discovered the lizard, which is an impressive addition to list of Australian reptiles.
Dr. Doughty affirmed that it was eureka movement for them to discover the species as it is a completely new species. As per Dr. Doughty, this goanna has diverged from its closest living relative, the short-tailed monitor, around six to seven million years ago.
This particular goanna, nicknamed as Pokey, is only known from the peninsula north of Broome and Derby in Western Australia's Kimberley region, which is not the case with its relatives that are often found over a widespread area.
Currently, Pokey is on display at the WA Museum and visitors there will be able to observe its small head, tiny legs, stretchy body and short tail. Dr. Doughty described it as a 'funky' shape for a goanna and also shared that it is hyperactive.