World's Smallest Goanna goes on Display at Western Australian Museum
Written by Molly Solana on 31 Dec 2014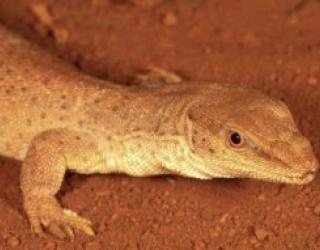 World's smallest goanna lizard has been found in Australia. The Dampier Peninsula goanna, or Varanus Sparnus, nicknamed as Pokey, is the 26th goanna species discovered in Australia.
The lizard has been put on display at the Western Australian Museum. Its relatives can be commonly found over a widespread area of the country. But Pokey and its fellow Dampier peninsula goannas are found only on the peninsula north of Broome and Derby in Western Australia's Kimberley region.
The species is quite small measuring 23 cm in length and weighs just 16 grams. WA Museum's reptile expert, Dr Paul Doughty, said that the discovery of Pokey was quite important as it is a new species.
As per the scientists who have discovered it, the new species has remained unchanged for more than 6 million years. There are many other goanna species that can grow to three metres in length.
"The biggest mass of the largest (Dampier Peninsula goanna) was 16 grams, with a length of about 23 centimeters, whereas a komodo dragon (also a goanna) is about 80 kilograms at least, and over three meters long", said Dr. Doughty of the West Australian Museum told the Australian Broadcasting Corporation.
Though all are in the same group, have different scale. As per the researchers, the goanna has diverged from its closest living relative, the short-tailed monitor. The divergence has come at the same time when humans and chimpanzees have separated from their common ancestors.
As mentioned above, Pokey is on display in the museum. Visitors will be able to see its small head, tiny legs, stretchy body and short tail, which as per Doughty is a funky shape for a goanna. Doughty said that Pokey loved to burrow into the sand beneath the spinifex.