Samsung has raised production target for new Galaxy smartphones
Written by Matt Hensley on 11 Mar 2015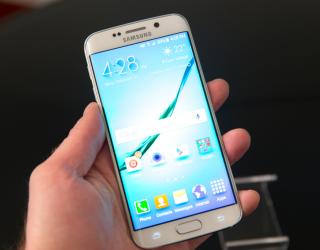 In a recently-released report, the Electronics Times newspaper has disclosed that South Korean smartphone maker Samsung has raised the production target for its new flagship Galaxy handsets --- the Galaxy S6 and the Galaxy S6 Edge.
Both the new Galaxy smartphones were unveiled by Samsung at the 2015 Mobile World Congress which was held in Barcelona, Spain, last week.
According to the Electronics Times report, the production target of the Galaxy S6 and the Galaxy S6 Edge smartphones has been raised by Samsung because of the highly upbeat early reviews about both the handsets; thanks largely to their revamped design as well as a number of technical enhancements.
With the Galaxy S6 and the Galaxy S6 Edge handsets having apparently got a positive market reception, the production target of the two handsets for April has reportedly been increased from 7 million to 8 million units.
However, as per the Electronics times report, the production target of both the new flagship Galaxy handsets for March remains unchanged at 5 million units.
Samsung's decision to raise the April production target for Galaxy S6 and Galaxy S6 edge handsets is apparently rooted in the fact that the positive market response to the two handsets has seemingly prompted some brokerages to increase their 2015 shipments forecasts for the devices. The sales of the two new Samsung handsets are scheduled to begin on April 10, in 20 countries worldwide.