Pipeline boom continues across the country even as politicians fight over Keystone XL Pipeline Project
Written by Jennifer Vellucci on 17 Mar 2015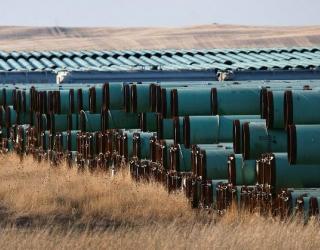 Keystone XL pipeline project has been waiting for approval and politicians have been arguing over the environmental impact of the pipeline. According to environmental groups, the project should not be approved as it carries the risk of leaks and the climate change consequences.
While the Keystone project has hit a roadblock, the pipeline boom across the United States has continued. A new pipeline in a far corner of North Dakota has been activated recently. According to reports, about 84,000 barrels of crude oil per day recently started flowing through the new line. The line connects the state's sprawling oilfields to an oil hub in Wyoming.
The Keystone project has been waiting for a final decision, while new developments added over 11,600 miles of pipeline to the country's domestic oil network. Overall, the pipeline network has increased by about 25% in the last decade.
The developments have been dwarfing the Keystone project. Since 2012, about 3.3 million barrels everyday of capacity has been added. Rob DeSai, an equity analyst with Edward Jones, said that there is a lot of growth and it is really positive.
DeSai further added, "The oil that's being produced in the U.S., in many cases, it's basically in the middle of nowhere. You need new infrastructure to get that oil to market".