Obama meets friends, including a Pizza Man, before leaving Treasure Coast
Written by Meagan Roberts on 30 Mar 2015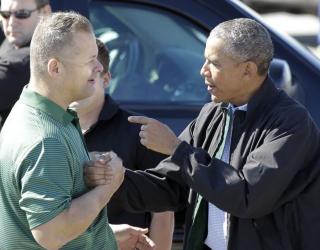 US president Barack Obama on his two-day trip to the Treasure coast met many of his old friends. He spent time with them and also played golf before leaving for Washington on Sunday.
Before returning to Washington, Obama also met with Scott Van Duzer, a pizza restaurant owner who became famous in 2012 when he came and hugged Obama during his visit to a restaurant named Big Apple Pizza and Paste.
Although it was comparatively a smaller hug that time, Van Duzer didn't miss the chance to introduce his sons, Jordan and Scott Jr, to the president.
This time, Van Duzer greeted the president at St. Lucie County International Airport, and said that from the very first day of Obama's restaurant visit, he has told everybody that the president is a cool guy.
Van Duzer said, "We caught a lot of crap from that first hug and everybody thought it was political, but we've been to the White House. We've been to the United Nations. He's just a nice guy".
On Sunday, after a few rounds of golf at Floridian National, the president flew back to Washington. At 4:35 p.m. Air Force One taxied down the airport's runway and took off to the south before turning and heading on to the Washington.
Obama, on 29th March, was joined for a round of golf by Floridian owner Jim Crane, an old friend. He was a major Democratic Party donor with whom Obama used to play golf during his February 2012 stay at the club.
The group also included Militon Carroll, an official at Halliburton who also played with Obama in 2012, and Glenn Hutchins, a private equity investor who is part-owner of the NBA's Boston.