US authorities chase two Llamas on the run in Sun City, Arizona
Written by Victor Cozad on 27 Feb 2015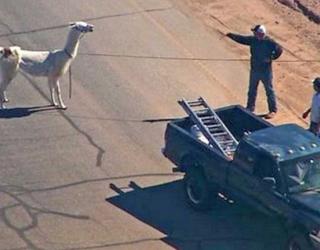 Two llamas got loose on the streets of Sun City on February 26, Thursday, causing a stir in the streets. A large, white llama and a smaller black llama darted through the streets of Sun City during the lunch hour.
Cars and golf carts stopped in their tracks when the dynamic duo ran uncontrollably through manicured yards, golf courses and along street medians and sidewalks.
They thwarted numerous attempts by sheriff's deputies and bystanders to round them up before they were finally captured.
The black llama was captured first and the white one was captured after two men at the back of a moving pickup truck repeatedly threw out a rope.
It took three men to secure the rope who came in a pickup truck to finally rope them into custody.
The llamas escaped from a retirement community in Sun City. Local television station ABC15 used its helicopter to film the action in real time.
The chasing scene became the centre of attention on social media. According to social science software Spredfast, 'Peak Llama' was used in 3,084 tweets per minute on Twitter. In afternoon, the breakout of llamas inspired people to use trending terms, which include #llamawatch, #teamllama, Sun City and White Llama.
It seemed as if all of America was together watching the action for 30 minutes. The sport-oriented @FanSince0 wrote, "The white llama is a very smart runner. Knows the game inside and out and can make quick decisions. Any farm is lucky to have this guy".
Jon Favreau, a former speechwriter for US President Barack Obama tweeted, "A direct result of Obama's Llamnesty policy".