Researchers Put Efforts to Understand Why Young Turtles Often Disappear
Written by Molly Solana on 13 Apr 2015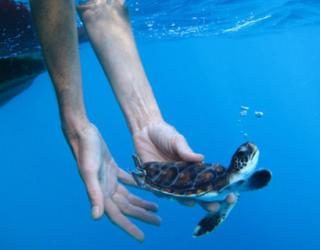 According to researchers, they put in efforts to know why young turtles frequently vanish and for this they tracked 44 wild and young turtles through satellite.
"This is the first study to release drifters with small, wild-caught yearling or neonate sea turtles in order to directly test the 'passive drifter' hypothesis in these young turtles", said Dr. Kate Mansfield, who runs the turtle research group at the University of Central Florida.
According to the researchers, they want to know how young turtles move so they can be protected. The experts said that at present, about 7 known species of sea turtles are there ad all of them under the endangered species list.
Specially-designed, solar-powered tags have been attached to young sea turtles that caught in the gulf. Nathan Putman, one of the researchers said that these turtles are not easy to catch. Team of the researchers frequently travels beyond 100km off shore with an aim to catch a turtle.
The researchers said that sometimes they were able to find turtles but not sea turtles. Particularly, the team of researchers was in search of Kemp ridley turtle, which is one of the most famous turtle species in the gulf.
The researchers were able to tag more green sea turtles in spite of the fact that their nesting area was 1,000 miles south of Costa Rica. Dr Putman said that in the first year they were not able to tag any of the green turtles. They also don't get a big sufficient sample size of these.
According to the researchers, they tagged 20 Kemp's ridley turtles and 24 green turtles and all this between six months and two years of age. The researchers said that drifters and turtles diverge rapidly and have very different movement properties.