Bison attacks Australian tourist in Yellowstone National Park
Written by Victor Cozad on 03 Jun 2015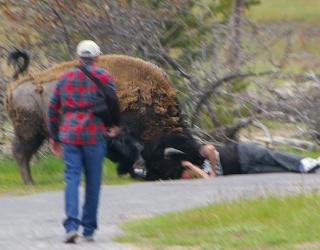 A bison in Wyoming's Yellowstone National Park attacked and seriously injured a 62-year-old Australian tourist, a spokesperson for the national park confirmed.
Spokesperson Amy Bartlett said the bison tossed the unidentified tourist numerous times into the air after he attempted to take some photos of the wild beast from a distance of merely 1.5 metres. Park officials recommend visitors to make sure that they get no closer to a bison than 20 metres.
She explained several people crowded the bison near a paved sidewalk close to the famous Old Faithful Geyser. The bison was already agitated when the tourist tried to take a photo, and when it charged, the tourist didn't get any chance to escape.
The tourist was rushed to a hospital with multiple serious injuries. However, authorities assured that the injuries are not life-threatening.
It was not the first such attack by a bison in the Yellowstone National Park in the recent past. On May 16, a bison gored a teenage girl from Taiwan as she posed for a photo near the animal.
On an average, bison and elk attack two people in the park every year and are responsible for far more injuries than grizzly bears and wolves.