Historic Houston Club building imploded
Written by Meagan Roberts on 20 Oct 2014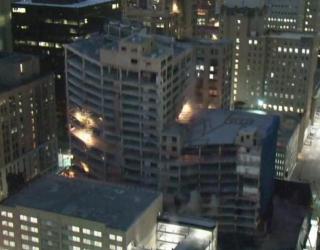 The historic eighteen-storey Houston Club building was turned into a pile of steel and concrete rubble on Sunday, as property owner is preparing to construct a new building at the site.
Construction workers imploded the historic club building situated at 811 Rusk near Capitol early morning yesterday. Skanska USA Commercial Development had been preparing for months to demolish the historic building by removing asbestos and brick.
Speaking about the demolition, a resident named Rick Sonora said, "I remember as a kid, my father brought me out, so I wanted to return the favor to my kids."
The implosion of the Houston Club building was handled by D. H. Griffin of Texas. The One Shell Plaza structure was designed in the year of 1954 for Houston's power players.
Before demolition of the building, the streets around it - a two-block perimeter within Smith, McKinney, Prairie and San Jacinto, - were closed to traffic.
The property-owner has plans to use the site to construct a 35-storey building, dubbed Capitol Tower. The planned building will reportedly be a sleek, environmentally-friendly meeting spot that would better connect Houston Downtown's streets with its tunnel system.