EPA Awards Grant to Upgrade MV Delaware's Engines
Written by Molly Solana on 09 Dec 2014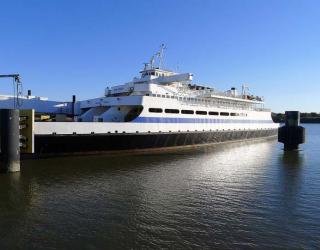 The Delaware River and Bay Authority (DRBA) said that the Environmental Protection Agency has given a grant of $975,000 to Cape May-Lewes Ferry to upgrade the ferry boat MV Delaware's engines.
The amount will be used to include clean air technology in the boat. The DRBA operates the ferry and the grant has been given to it. The Cape May-Lewes Ferry will help in bringing the new clean air technology and to reduce toxic air emissions.
The $975,000 Diesel Emission Reduction Act grant will prove useful in re-power engines in the boat with EPA certified engines. By adopting this technology, a decline in fuel usage will be seen by 39,600 gallons annually. Not only this, carbon dioxide emissions will also be reduced by 443 tons annually.
EPA Mid-Atlantic Regional Administrator Shawn Garvin shared that around $130,000 per year will be saved in maintenance. The Diesel Emission Reduction Act funds like this one are utilized to clean the legacy fleet of diesel engines that were introduced before recent environmental standards came into practice.
"Reducing smog and particulate matter in our air and also increasing fuel efficiency, which reduces greenhouse gas emissions that contribute to climate change", affirmed Garvin. The M/V Delaware has been running on the diesel engine technology since the 1930s. Since that time, it has made endless trips from Lewes to Cape May.
With the help of the grant, the two engines used to drive the ferry and cut fuel use, reduce carbon emissions and reduce particulate emissions as well. Garvin said that by upgrading engines, they will be able to combat climate change as well as benefit local air technology. It will also improve local air by removing emissions from 12 diesel tractor trailer trucks.