US Navy's new Laser Weapon Capable of Disabling Incoming Planes or Speedboats
Written by Matt Hensley on 11 Dec 2014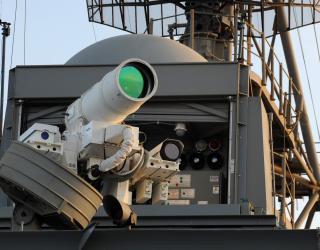 Pentagon officials said that the US Navy's new laser weapon is up and running in the Persian Gulf. The weapon has an invisible ray using which it can disable speedboats or incoming planes.
The invisible ray can target by boat's engine systems with great finesse. Officially it is known by its prosaic name, the Laser Weapons System (LaWS). In September, the 30 kilowatt laser was sent to the Persian Gulf for real-world testing of its abilities aboard an entirely functioning Navy ship, said officials.
According to the Navy's Office of Naval Research, it has performed many types of testing aboard the USS Ponce. Year-round, USS Ponce vessel remains deployed to the Persian Gulf. Now the laser is listed as operational and entirely integrated into the weapons systems aboard the Ponce.
US Central Command has given the permission to the Ponce's commander to use the laser weapon to defend itself if required. A video of testing conducted in November has been released by the navy. The video depicts the speed and precision with which the energy beam can be utilized against incoming threats from the sea or air.
For instance, the laser can be utilized to warn incoming boats or planes by focusing and using a low intensity beam to 'dazzle' them as a warning. If the given warning is ignored then the laser's power can be boosted to disable an aircraft or speedboat that keeps on moving towards the Ponce.
The laser resembles a telescope and is paired with a long-range optical system that enables for precise targeting at a distance. A sailor who sits in front of monitors and uses a controller manages the laser.
"This is a very user-friendly way to operate it. It's efficient and of course the sailors coming up are well-versed at it, so they're good at it and it's pretty easy for them to pick up", said Rear Admiral Bryant Fuller, deputy commander of ship which design at Naval Sea Systems Command.