Sixth person dies following senior living complex fire in San Antonio
Written by Jacqueline Tobaben on 31 Dec 2014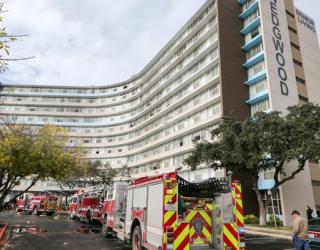 Another resident of a San Antonio area senior living complex died on Tuesday, pushing the high-rise fire death toll to six, authorities confirmed.
However, the latest casualty, of a 71-year-old woman, didn't take place in a hospital. The victim was instead staying at the Courtyard Marriott hotel where many of the displaced residents are being housed temporarily. Authorities didn't reveal the name of the victim, pending notification of her family.
The medical examiner didn't mention the woman's official cause of death. Castle Hills City Manager Diane Pfeil stopped short of revealing whether the elderly woman's death was linked to the fire that engulfed the third floor of the eleven-storey Wedgwood Senior Living structure last Sunday. However, she hinted that the death could be associated with the fire incident.
Speaking to reporters, Pfeil said, "We have received a preliminary report of a sixth death possibly associated with the incident."
The fire erupted at the Castle Hills-based Wedgewood Senior Living Center at around 6:30 on Sunday. The fire claimed five lives on the same day, while leaving more than a dozen residents with severe injuries.
Of the six causalities, the medical examiner has released the names of only two: 73-year-old Jose O. Gonzales and 74-year-old Karen Rae Betz, who lived next to Apartment 302 and in Apartment 701, respectively. Nearly forty residents haven't yet accounted for.
Wellness checks for all other residents of the fire-gutted building will be conducted on Wednesday this week.