Seattle dog rides bus to Local Park alone
Written by Meagan Roberts on 14 Jan 2015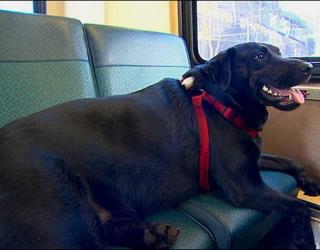 A dog has become a regular bus rider in Seattle, after learning the route to a local dog park. The trips of the two-year black Labrador Eclipse began when her owner, Jeff Young, took too long to finish a cigarette while waiting at a bus stop.
Mr. Young said he once missed the bus while finishing a cigarette. Before he knew it, Eclipse had climbed onto the vehicle and later got off at the right stop.
Since then, the dog has started taking the bus alone to a Belltown dog park. Eclipse roams the aisles and hops onto empty seat next to other passengers. This has generated a lot of attention among other bus riders as the dog travels alone.
Young said, "She's been here the last two years, so she's been urbanized, totally. She's a bus-riding, sidewalk-walking dog. Probably once a week I get a phone call. 'Hi. I have your dog Eclipse here on 3rd and Bell'. I have to tell them, 'no. She's fine.' She knows what she's doing".
According to commuter Tiona Rainwater, she is well known to all the bus drivers. She sits in the bus just like a person does and makes everybody happy.
Jeff Switzer, a spokesman for Metro Transit, told FoxNews. com that he was unaware of any complaints stemming from Eclipse's rides.
He mentioned that while local transit officials appreciate that Eclipse likes taking the bus, they say she'd be safer with her owner and on a leash.
A 12-year-old Yellow Labrador Allie, from San Luis Obispo, California, learned how to open the drawers and doors herself. The video posted by its owner Adam Montiel has gained nearly 2.5 million views on YouTube.