Frigid Cold hurts US Auto Sales in February
Written by Nicholas Patterson on 04 Mar 2015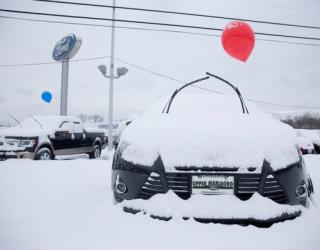 Freezing temperatures affected US auto sales in February. But even after considering the impact of cold weather, majority of the automakers have reported gains all thanks to the strong economy.
Toyota was at the top of the gainers list, with a 13.3% gain over last February. Chrysler, General Motors, Honda and Nissan witnessed gains of 5% or less. US sales of Ford were down 1.9% and one of the main reasons for the dip was dealers did not have sufficient inventory to meet demand for the new F-150 pickup truck.
Volkswagen's sales fell 5.2%. Sales of Jeep Cherokee jumped 19% in February. The forecasting firm LMC Automotive is expecting US sales to top 17 million this year. Experts affirmed that as temperatures increased at the end of the month, some customers came out of hibernation.
Colonial Volkswagen of Medford sold 75 cars, but still short of its goal of 115. Consumers and businesses continued to shop for trucks and SUVs. General Motors affirmed that its sales of the Chevrolet Silverado increased 24% last month. And, their small SUVs continue to be one of the hottest segments in the market.
Toyota sold nearly 22,000 RAV4 SUVs, which is 33% up from a year ago and its total sales were 180,467. Camry, Corolla and Avalon sedans, SUVs and trucks were top sellers.