The new MacBook --- Apple's thinnest and lightest laptop
Written by Matt Hensley on 13 Mar 2015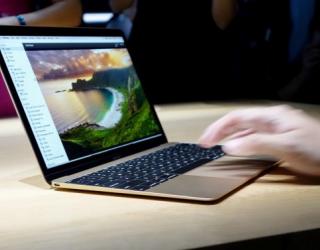 Tech giant Apple unveiled its new MacBook at its 'Spring Forward' event in San Francisco earlier this week. Introducing the new MacBook at the event, which chiefly marked the officially unveiling of the much-anticipated Apple Watch smartwatch, Apple said that the new MacBook is the company's thinnest and lightest laptop ever.
The new MacBook is scheduled to hit the markets on April 10. It is a premium, high-end laptop which will be priced at $1,299 for the entry-level model with 256GB of onboard storage capacity. A 512GB version of the laptop will be priced at $1,599.
The new MacBook is just 13.1mm in thickness, and it weighs only 2.03 pounds. The silent and energy-efficient new MacBook feels like an iPad, though with a regular keyboard and screen. Incorporating a number of design techniques of the iPad, the new MacBook has all the electronic components squeezed onto a small card - called the logic board - and it works without a fan.
The 12-inch screen of the new MacBook is a 'Retina' display; and the laptop also comes with a new trackpad. The full-size keyboard of the new MacBook extends across the left and right sides of the laptop, and is notably more precise than the keyboard's of the previous MacBooks.
One of the most noteworthy changes which Apple has introduced in the new MacBook vis-a-vis the previous models is that the new laptop comes with a standardized USB Type-C connection, instead of Apple's proprietary MagSafe power-charging port.