Stingray caught in Thailand's Mae Klong River could be World's Largest Freshwater Fish
Written by Molly Solana on 14 Mar 2015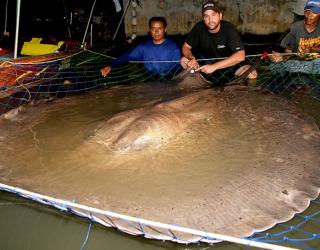 Last week, a group of scientists and anglers captured an 800 pounds and 14 feet long stingray in Thailand's Mae Klong River. According to reports, the massive stingray could be the world's largest freshwater fish ever taken on rod and reel.
The capture was made in the Amphawa District. As per the reports, the stingray fights differently that other fish when hooked, but it wasn't an easy task for the anglers to catch the massive fish. The reports stated that it took several hours to catch the fish. About seven men fought in the epic battle. After catching, the fish was taken out of the water for further examinations.
Jeff Corwin, nature conservationist and leader of the team, said that the fish was a 'behemoth'. On Facebook, he wrote that the team members were not able to weigh the fish because of the stress that such a process would put on the fish, but he was confident with the estimate of his team.
While talking to the Daily Mail, Rick Humphries of the British company Fishiam said, "We have caught over 450 different stingrays and our estimations have been proved highly accurate on the rare occasions we have weighed this species".
As per a report by National Geographic, in the Guinness Book of World Records, Mekong giant catfish has held the current record of world's largest freshwater fish. The catfish was also caught in Thailand in 2005. According to a spokesperson from Guinness World Records, to challenge the current record, Corwin and other team members should submit official application.
As per some reports, massive freshwater stingrays can grow much larger than even the Mekong catfish. Scientists think that the species can have weight equal to 1,300 pounds. The fish is not aggressive, but it is capable of piercing bone.