Racist stickers appear on windows of businesses across East Austin
Written by Meagan Roberts on 19 Mar 2015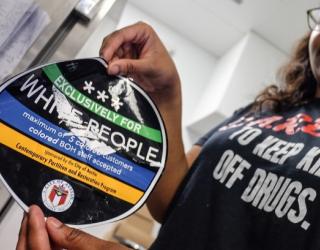 On Wednesday, racist stickers appeared on the windows of businesses across East Austin. The stickers, featuring a city of Austin logo, read thus: "Exclusively for White People. Maximum of 5 colored customers."
The racially offensive stickers have sparked confusion among the East Austin residents, and have been widely condemned by activists.
According to reports, the racist stickers displayed on the windows of East Austin businesses have supposedly been 'Sponsored by the City of Austin Contemporary Partition and Restoration Program.' However, the city officials have claimed that the mentioned program does not exist; and also said the use of the city of Austin logo on the stickers was unauthorized.
In addition, city officials also said the racist stickers have not been knowingly displayed by businesses. The stickers were noticed - and removed - by employees working at several East Austin business establishments on Wednesday morning.
With no one publicly claiming responsibility for the racist stickers by Wednesday afternoon, the city authorities have asserted that the stickers appear to be a handiwork of the vandals. Condemning the act, Austin Mayor Steve Adler said: "Those things are never funny and those things are never innocent."